How to create content across platforms and fill your content calendar with a single blog post.
Making Your Blog Content Stretch Further
Any marketer will tell you that content creation is an essential component of brand promotion. A blog helps boost your search engine rankings, brings traffic to your website, and offers value to your customers. Still, it will only serve you well in terms of generating traffic if it is hosted on your website.
A blog is a two-pronged strategy to provide engaging marketing content and bring in organic traffic using search engine optimization (SEO). Let's discuss SEO blogging, how it works, and why you should use it in your business marketing strategy. Then we'll share several easy ways to get more miles out of your blog. 
Even if you already have a blog and are confident in its performance, we encourage you to read the next section without skipping ahead. There may be a helpful tip you haven't heard before or forgotten about and can benefit from the reminder!
Why Have a Business Blog?
A blog is one of the most versatile types of content you can create for your business. You can use it to connect with potential customers and serve loyal ones by writing blogs on a weekly, biweekly, or monthly basis on topics that interest them. When people browse your website and find beneficial information, they'll be more likely to remember you when they need your services. 
Top marketer, Neil Patel, shared an impressive statistic recently that shows the #1 organic position on Google delivers a 34.2% click-through rate, while regular search ads deliver an average of a 1.9% click-through rate. These results create a fantastic opportunity for your blog. When you write your articles using SEO best strategies, your blog will be more likely to turn up in the top spot on Google when your customer types in "How do I clean my air ducts?" or "What is a mutual fund?"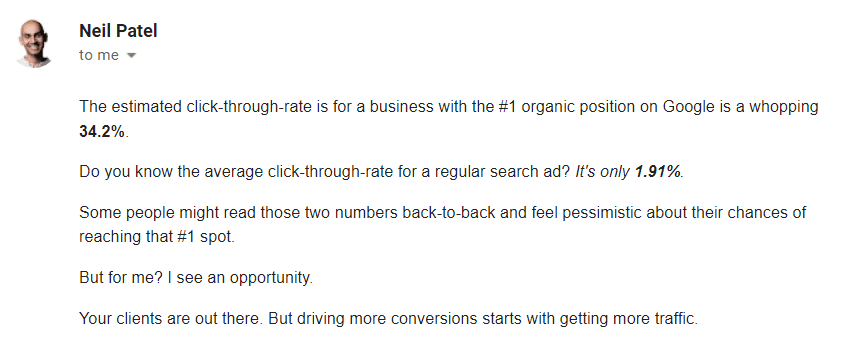 (On a separate but related note, we have helped a local advertising agency boost their click-through rates on ads from 2.73% to 6.43% – if you are thinking about advertising, please reach out so we can tell you how to achieve these numbers!)
How Does SEO Work?
SEO (search engine optimization) is the method of improving content so that search engines can find it faster. You might think that reaching the top spot is impossible, but we're here to tell you it is absolutely achievable and is a worthwhile goal. We've helped our clients reach that top position for carefully researched keywords in their industry, and we can help make it work for your business too. If you have a healthy website, an SEO blog and SEO website content can help you reach that top position. 
One essential rule to remember: never duplicate your blog posts on other websites. Keep your articles on your company website so that you benefit from the SEO results. Copying your article word-for-word to another website can actually hurt your SEO rankings. If you are asked to be a guest blogger for another site, it's always better to write something original.
Creating Content for Social Media and Marketing
When you're a small business owner or a new entrepreneur, the idea of marketing and managing social media can induce groans. We use our blog to help fuel content for our marketing calendars, and you can, too, regardless of what platforms you're using. You can share the link, dice up the content to create shorter posts, and repurpose it down the line. Let's use this blog post as an example to walk through all the ways we can use the information elsewhere, making our content creation workload a lot less intimidating and time-consuming.
Creating Content for Newsletters
When we publish this blog post to our website, we'll first let our clients know about it (if that's you reading this, hello, and thank you for reading!) We can do this by making an announcement in our newsletter and sharing the link. We could also copy a quote or helpful tip from this post and create a newsletter around it while including a link directing the reader here for the complete information. When you have multiple blog posts, you can continue to draw different excerpts to feature in subsequent emails to catch clients who missed it or skipped it the first time.
Creating Content for Facebook and Twitter
If your brand has an account on Facebook or Twitter, you can notify your followers that you have a new post by sharing an enticing quote as a preview, along with the link to your post on your website. Later on, you can do the same thing as we suggested for your newsletter. You can take bits and pieces that sound good separately and share those as content while providing the link to read the entire article.
Creating Content for Instagram or Pinterest
Is your business using Instagram or Pinterest to connect with your audience? Your strategy for creating content from your blog post will be similar to Facebook; however, linking to your website will look different on Instagram. At the time of writing this, there are two options for linking to a website from Instagram.
You can tell your audience about your new post using the Stories feature and link button. (include image)

You can put the link in your bio. Instagram only allows one link at a time, so you can put a link to your blog in that spot, or you can use a feature such as

Linktree

. Linktree provides you with a link that displays a menu of buttons when clicked. You can customize the Linktree page to match your branding and add your blog as one of the buttons. (include image)
Both Instagram and Pinterest are visual platforms, so you'll be required to include an image or video with your content. Since a blog article is far more interesting to read when images are included, we recommend reusing one of those or creating your graphics specifically for social media. Two websites that can help you make appealing visuals quickly and simply are Pexels (thousands of diverse royalty-free stock photos) and Canva (a free graphic design app with hundreds of templates and easy-to-use tools). Or you can do what we love to do, and have an incredible graphic designer create these for you!
Creating Content for LinkedIn
We emphasized earlier that you should never copy and paste your blog article to another website. The one exception to this rule is on LinkedIn. The article feature on LinkedIn is a great place to copy your blog posts so that your network and other businesses can find and interact with them. Replicating on LinkedIn will not damage your website's SEO. Even still, we recommend only sharing a portion of your blog post to the article section and including a link directing the reader to learn more on your website. Alternatively, you can share the link to your blog as a post on your account, just as you might on Facebook. Not sure how to do this, use our How-To Guide for Creating Articles on LinkedIn.
Content for Other Social Media Platforms
Are you on another social platform we haven't mentioned? One of our clients has a YouTube channel where they create short videos summarizing the content in the blog articles we write for them. You can follow the same principles listed above and adapt the method to whichever platform you are using.
Don't Fear Repetition
You might be thinking that your audience will notice the repeat promotions, but the reality is, your audience is busy and distracted. Most of your followers won't see your blog the first time you post about it. The ones who do see it and read it are probably your fans already. As long as you share different facts or quotes each time, they'll be happy you reminded them of crucial pieces of information. Plus, keep in mind that content is often time-sensitive; someone seeing your blog post the first time might not feel like it's relevant to them, but by the time they see it a few months later, they could be in a new situation and immediately click through to read it.
Copywriters and SEO Blogging in Alberta
Are you ready to launch your way to the top organic spot on Google with a business blog and SEO website content? We have the blogging ideas and the writing skills to help you get there. You can save yourself time and get high-quality blog content by working with our copywriters at Fine Point Writing & Editing in Edmonton. Please get in touch or schedule a meeting in our calendar below so we can discuss your business and learn more.
Content Writing Pricing & Packages